Myles of Great Hopes Winter Gala 2019 – Give the gift of Water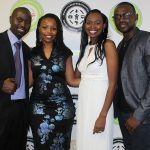 Join Us for a Great night of celebrating our accomplishment and embracing the 2019 goals. We have come long way in our efforts to "Mission Statement"
We will have our Annual Gala at the Knights of Columbus Event Center.
Live Entertainment featuring Freddie Green, 
Art Auction,
Kenyan Food,
and so much more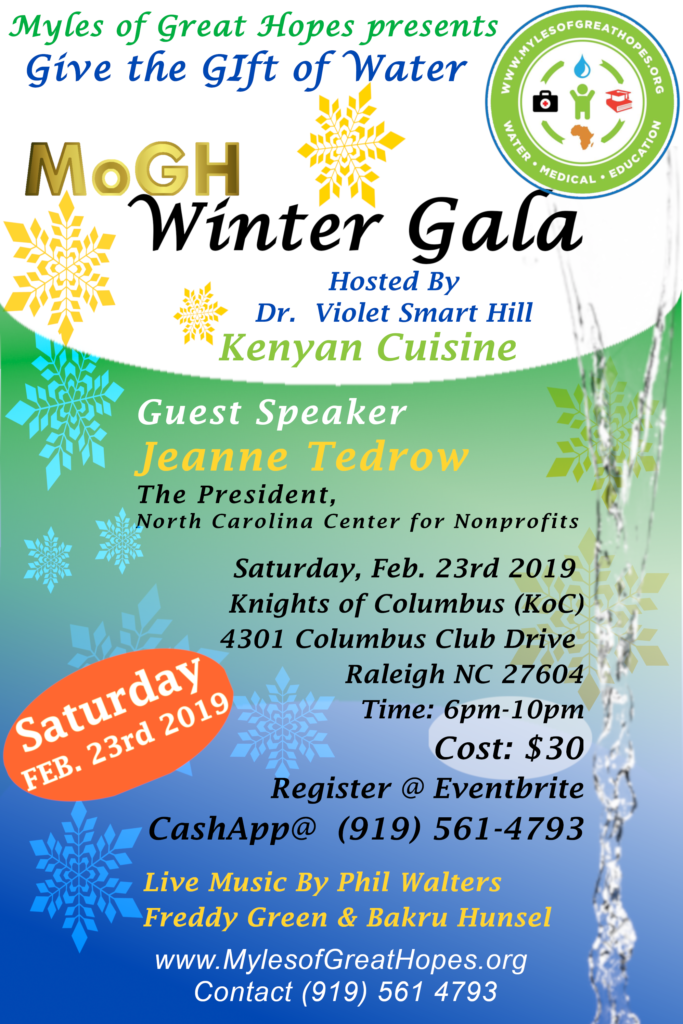 Event Details
Myles of Great Hopes gladly invites you to "Give the Gift of Water Winter Gala Night," a dinner and dance to benefit a school & a community in rural Kenya. Share the warmth, love and joy the winter brings by joining us for the meal with a group of an amazing diverse people from our beautiful Triangle Area. The dinner proceeds will quench the water thirst in Kajiado, rural Kenya, a semi arid region.
Our Guest Speaker – Jeanne Tedrow – The President, North Carolina Center for NonProfits, You cannot afford to miss this!! A resource beyond measure!
Mr. Phil Walters on Keyboard, Freddy Green on Saxaphone & Bakru Hunselon Percussion will be live playing some incredible tunes such as Lean on Me by Michael Bolton, Bob Marley popular hits, Please Don't Let Go, By the Rivers of Babylon etc. There will be a dance!
Not a children friendly event. Please make arrangements!
A Kenyan cuisine with a vegetarian option.
There will be some lucky winners drawn from a raffle received by the virtue of having bought a ticket.
Be on time to not miss an incredible small video of our mission, and a brief highlight of the gala. The amazing Dr. Violet Smart Hill will keep you in the know and entertained as she facilitates the event. You will be glad you came and brought in a close friend, buy your ticket now before we get sold out!
This dinner has been made possible by the support from our host under the leadership of Lori Phillips and the team at Knights of Columbus. We are very fortunate and their love for the community/human kind is second to none! THANK YOU!!